Aura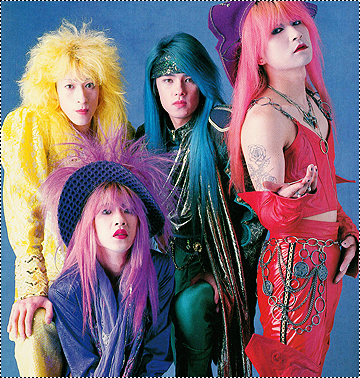 AURA was formed in 1986. The band's original line contained Reds, Pie, Marble, and Heath. KoREDS didn't join the band until 1989, replacing Heath, who left to join Zi:Kill. When Heath joined Zi:Kill, he changed his name to Masami. In December of 1989, Aura went major and released the single, "Dreaming Now". AURA released six singles and three albums from 1990 to 1992. AURA originally disbanded in 1992 due to poor record sells. The single, "Smile & Smile" was used for the anime City Hunter '91. The band's visual look has been compared to the more recent cosplay kei band, Psycho le Cemu, due to the vibrant colors used in their costumes.

After the disbandment, KoREDS started and produced the band AZZ while Reds went solo. Marble decided to trade in the rock 'n' roll life style to work in his family's okonomiyaki resturant. Pie went on being the more successful member by being a support member for Ayumi Nakamura. In the late 90's, Reds was apart of the band The Orange. During the mid 2000's, KoREDS started the band Piranha with himself on vocals. In 2008, Piranha changed their name to Piranha 69 Kingz. KoReds also owns a recording studio called Ben Ten and is a producer.

Aura surprised their fans by reuniting for a 20th anniversary concert in 2006. The band decided to officially reunite after the success of the concert and released a self cover album of all of their classic hits. Everything was going all well and good until April 2007. On April 24, 2007, Pie annouced he was taking a little break from AURA and decided to travel. Aura also did two Jacks-a-Napes tours with the bands test-No. and The Dead Pop Stars in 2007 and 2008. Early 2008, Reds annouced that Pie decided he would no longer take part in the band. In April 2008, AURA released a new mini-album called "Mirai SOUL". This is the first original release since 1992, their last being their self-titled album.

In 2010, Pie rejoined the band for their 20th anniversary celebration and doing minor concert appearances. Some time during March 2013, Pie was hospitalized due to lung cancer. On December 28 of the same year, Pie lost his battle with his disease at the age of 46.
Members
Reds [05/27/1967] (Vocals & Guitar) - Original Member
Marble [02/25/1968] (Bass) - Original Member
KoREDS [08/22/1968] (Drums) - Joined in 1989


Heath (Drums) - Original Member, Left in 1988
Hirakawa "Pie" Shuji [03/21/1967] (Guitar) - Original Member, Left in 2007, Rejoined in 2010, Deceased [12/28/2013]
Match (Support Keyboard) - Left in 2008
GT (Support Guitar) - Joined in 2007, Left around 2010